December 31, 2007 | Filed Under ordinary | 1 Comment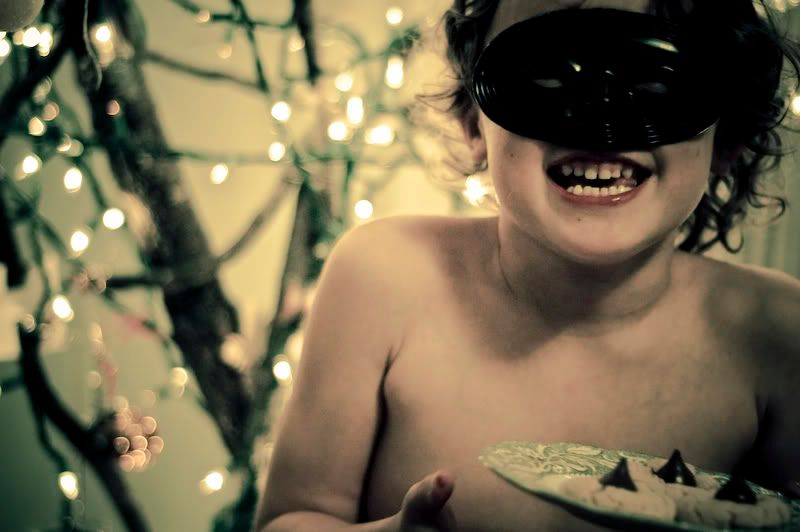 santa and henry eat cookies in bed while jude, who, unfortunately, fell asleep during the second-christmas-eve movie and would not wake up (even for cookies), sleeps, nestled all snug in my bed. ernie and i have a long night of wrapping and constructing to do, but it's our favorite kind of long night, the kind powered by glee and sweet drinks and scotch tape. hooray for christmas! it didn't feel like christmas eve today, and it shouldn't, i suppose, since it is not christmas eve after all. i'm glad the boys don't know to feel that it is another kind of eve, instead.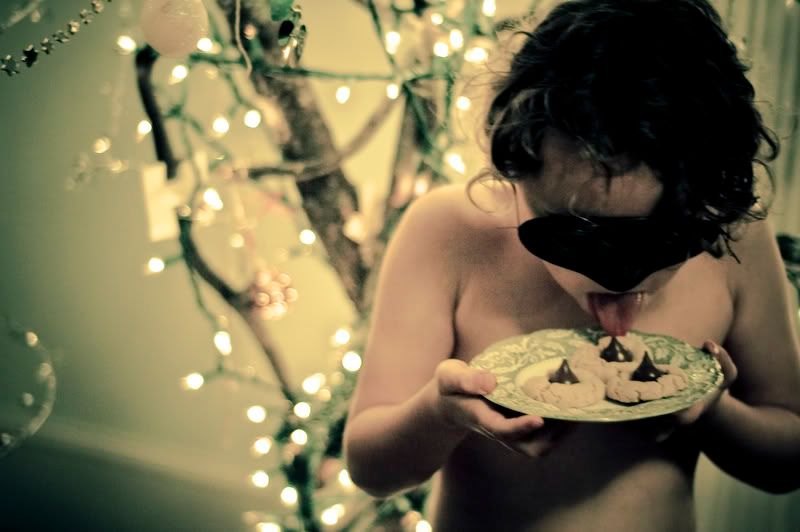 ernie began a kitchen renovation today. having him rip the cabinets from the wall was really fun to watch. the place already looks better and the paint is still in the buckets. hooray for kitchen renovations!
are those fireworks i hear? roman candles? something snapping and popping with spark and electric finery in a song of goodbye to the old year?  investigation to follow.  and a list of purpose for tomorrow.
too many miles to count, half of them driven while holding a small jade plant rooted in sand (ernie was too good to complain even though i know it was annoying), we've gone and come back again. no snow in PA for us, although the sorry lumps of it made an occasional snowball while walking with granddad in the woods. at home there's a spring in the step of the breeze, the grass soggy from days of christmas rain.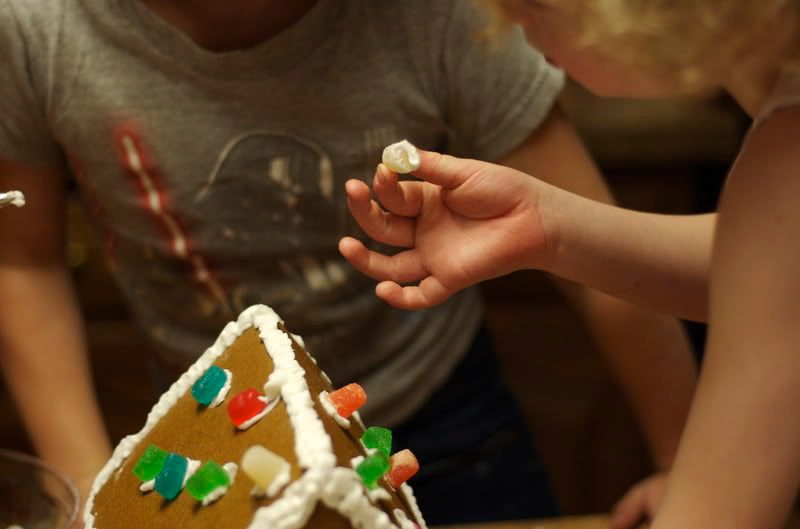 charged by an excess of sweets, the boys spent christmas in a gleeful state that involved much hyperactivity and over-stimulation. they decorated a perfectly constructed gingerbread house, discovered what thousands of legos set up at once is like, were very patient with the piles of presents placed early beneath grammy's tree, played with cousins, were happy often, and came away wishing to stay longer, as one should feel when leaving the grandparents' house.
home again, i try to put things away, giving the cat extra love and attention after the scolding he gave to us last night. you would think he'd enjoy a week long vacation from us all. it's good to be loved. having not given gifts to our children ourselves, and a pile of gifts that we didn't want to haul to PA and back again, we plan a christmas for monday morning. christmas twice, giving the clouds a second chance at a snow, white-blue under a black wing of sky.
life may never be the same. no piece of paper is safe. i'm a little bit sad that so much of my life has gone by without my knowing how to fold a piece of paper into an instant book. i'm teaching henry tomorrow so he won't waste so much time.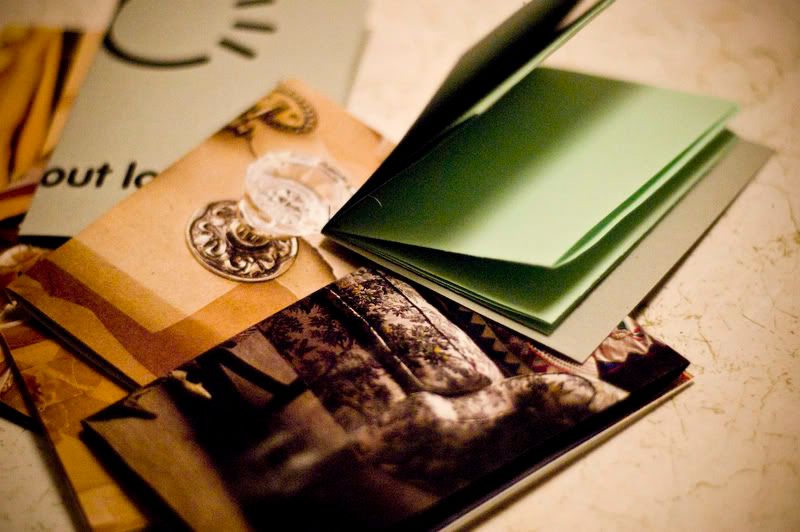 i'm in love with the binding on the "how to make books" book (on which ernie used the barnes and noble 25% off coupon, just for me. thank you, dear.) so childcraft. i have a compelling need to buy childcraft books when i see them in a set on the shelf at the thrift store. i must have spent too many hours reading the colorful collection we had in my parents' library, and the orange series on the depression blue shelves at my grandma's house.
it's too bad all of those childcraft make & do books didn't tell me how to fold a piece of paper into an instant book.
December 20, 2007 | Filed Under ordinary | 1 Comment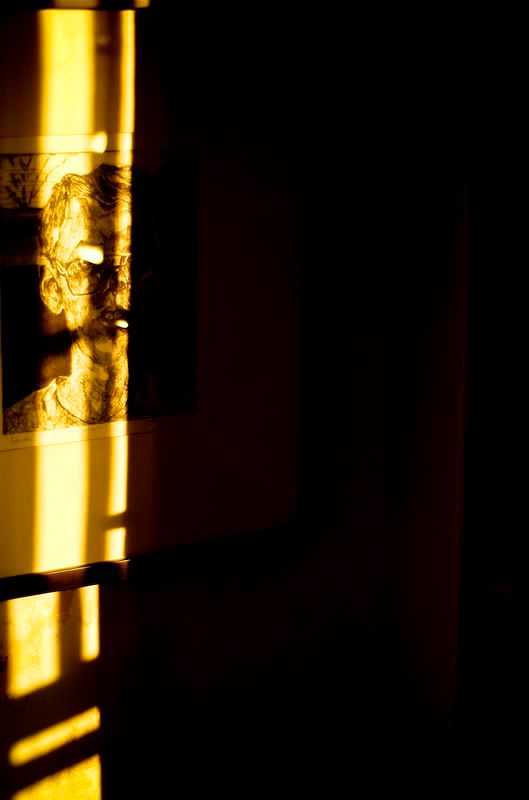 good
terrificness by way of annie in the form of handmade christmas ornaments (thank you!)
early to bed, early to rise
reading rainbow (so. good.  i had forgotten, for shame.)
coloring the hair
nearly daily ups and fed ex deliveries
sewing capes for young crusaders
bad
finding a babysitter on short notice
feeling worried when the phone rings after 11
the unceasing! need to sweep! and vacuum!
cheap tea bags
ugly
the compulsion to squeeze those little zits on lola's cheeks
how hard it is to burn kid energy when it's too cold to want to be outside for long
rationing the snacks so that we don't have to buy anymore before we leave for PA (while hunger crazed monkeys pounce on each banana, cracker, stringed cheese)
leaving a three year old unattended with a loosely capped bottle of elmer's glue
today we made a fort in the boys' room through which you had to gain entrance by crawling through a tunnel. i was brave and took coffee in the tent. the boys shrieked with laughter as i crawled through the tunnel. i know exactly why it was funny to them and feel too young to be laughed at like that. our hair stood tall and electric. we read our favorite tale about jack and the ogre using a flashlight that says moo every time jude pushed the button. in this case, at least three times per page.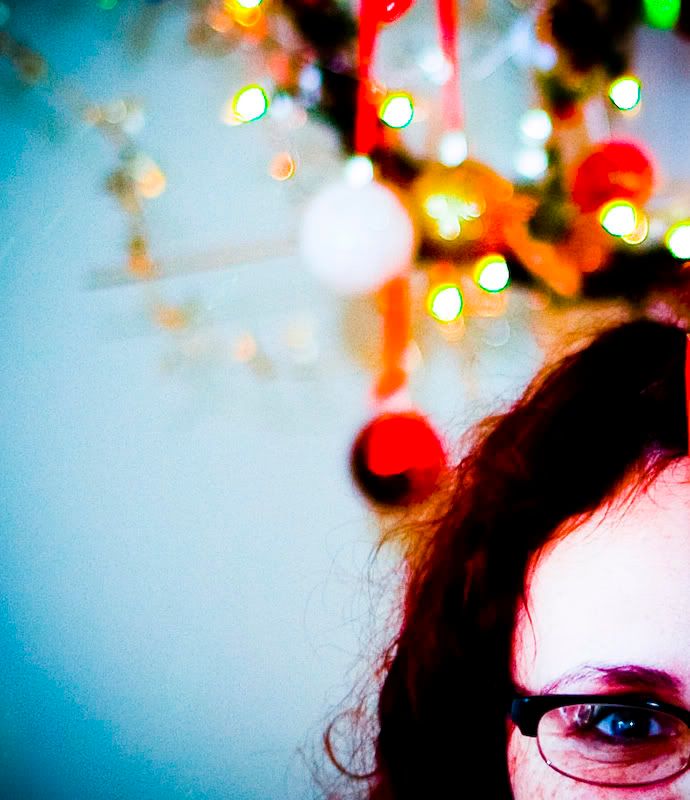 it's cold again, but it doesn't feel like christmas at all. the people across the street have covered their house and landscape with colorful lights. henry mourns our unlit yard, the absence of evergreen sap inside, outside overwhelming him. i want to give him some magic but find myself unequipped much of the time, unmagical myself. he's older, now. chocolate kisses that appear each morning in a santa tin on the sideboard don't excite him as they do jude, it takes a little more for henry these days.
we found ernie's computer charger in a cranky old briefcase that has been used as a variety of things when the boys zip through the house, the hum of their play loud, energetic. i keep trying to get rid of that briefcase but it's always saved from the goodwill pile before i take it out the door. we shined a flashlight on it the other night when we were looking, we both looked at it several times but didn't open it to look inside.
last night i dreamed that i was christmas shopping somewhere and that i left lola in a store in a stroller so that it would be easier to shop at another store. she was sleeping, after all. i came back and she was nowhere to be found and i was wandering in a panic in the store, which suddenly had lots of rooms with fake wood paneling. i woke up and it was morning and i was now horribly awake because the dream felt too real. lola was stretching out beside me, one arm over her head, just like ernie, henry, jude sleep. i wonder if i sleep that way, too. does everyone? ernie says that if i lived in iceland i would park lola in a stroller outside the store while i shopped, with all of the other babies in heated strollers lined up outside the window.
i should be sewing, finishing the last bits and pieces of christmas so that they can move on to the tiring but very satisfying wrapping stage. ernie and i did our yearly shopping dash last night. we make a detailed list and try to rush through it all in one night. we did well, having only one or two things left to do outside of the sewing frenzy before we can enjoy the holiday hot-chocolating, lounge-arounding, child-spoiling goodness. we like shopping all at once because we only have one evening of babysitter fees to pay but also because we don't have to be in with the throngs of people buying stuff, standing in lines, glazed eyes, heavy sighs, scolding voices of mothers, wives galore.
my mom sent tights fantastic for lola to open early and shortly after i gleefully ripped open the bag and put them on lola's unsuspecting chubby legs i was rummaging in the sewing mess for skirt fabric that i had to sew right then and there, forget about supper and all else. i can't wait to finish christmas sewing so that i can sew little girl clothes. who knew?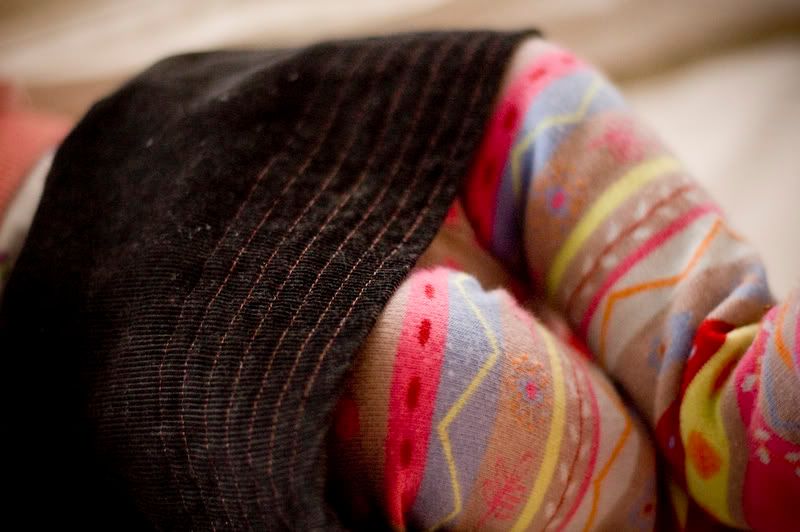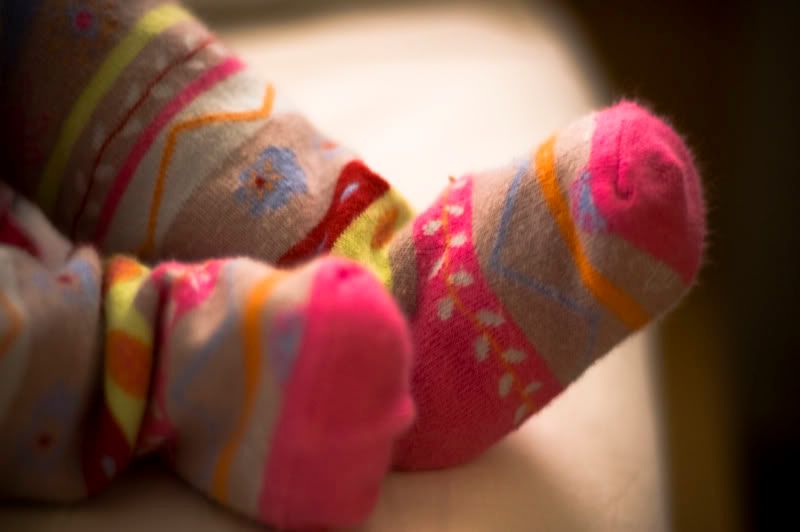 lola is pretending that she is planning on going to sleep for a reasonable stretch of time. her naps are always interrupted by noise and stampedes in the house. today she took many cat naps, shorter than the cat's naps, which have been ever longer and more luxurious since we've allowed him outside to hunt and party. lola sleeps well at night, i hardly notice her beside me when i sleep (hardly notice in the good way) because she's so polite when she asks to nurse.
my only prior experience being in Boys leads me to believe that Girls are just easier in general, that they understand that i need to sleep, shower, keep house, make things, so they cooperate and occupy themselves by watching the lights of the tree, cooing at devoted brothers who dance like monkeys over her head.
ernie spends the evening looking for the power charger to his computer (?) and watching master illusionists set things on fire, lock women in boxes, and flip cards with nimble agility. we need that one with the blonde hair to come and make the charger appear, the toss of his curls and some kind of moonwalk assisting him as we applaud.
"if it's hot like this tomorrow, i'm going to the attic to bring down a fan," i declared yesterday, after wondering why i would be so crazy as to pack away the short pants of summer into an unmarked box and shove it under the gables in the dark of the attic, the kind with no floor, no walls, nails from the shingles stabbing at us as we seek to have organized storage. i must have been completely insane to think, in november, that we would only being wearing sweaters, hoodies, corderoy until spring.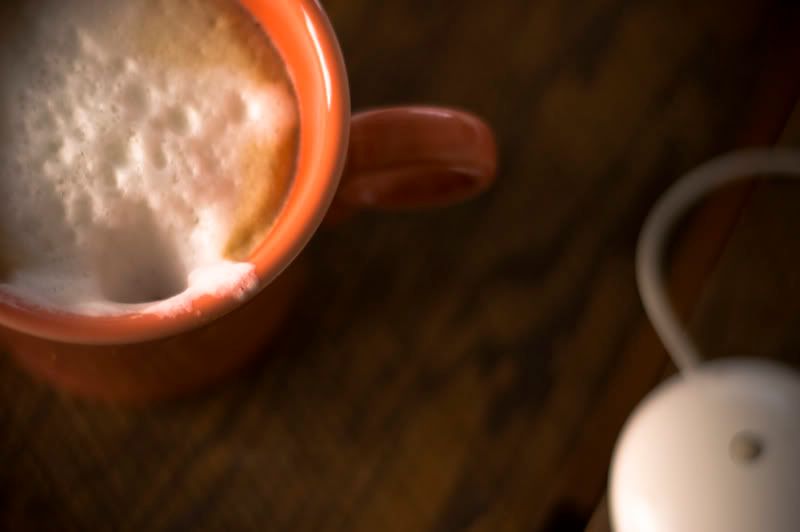 this morning, through the open windows, a bird dared to chirrup the song of a daffodil, light and golden green. i may brew some sweet tea for ernie today, hang the sheets on the clothesline. the boys hover over lola like vultures because she is wearing only a onesie and they have barely seen her legs, toes, her waving arms without the knitted, fleeced, the cozy to keep the chill away.
isn't it frustrating to have something look yummy and then, after going to the trouble to make it, have it be the ho-hummingest thing served at the table in a long time?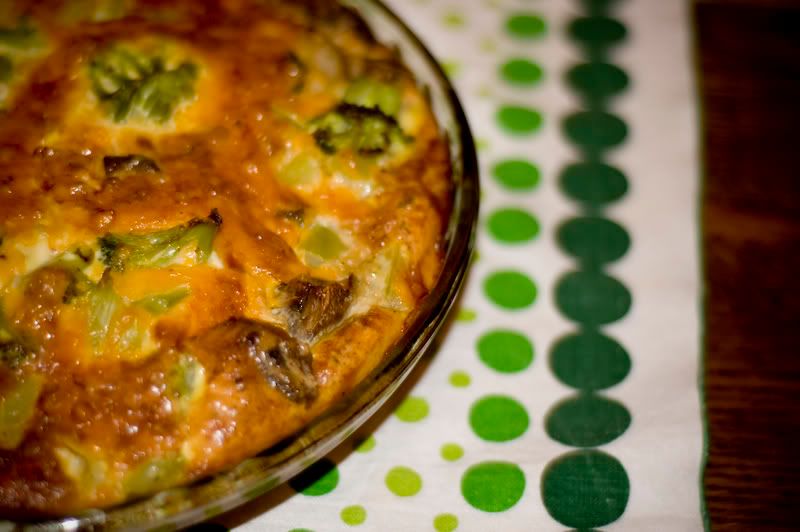 i don't subscribe to martha's every day food magazine to be disappointed but, alas, so we were tonight. ernie ate his dutifully, the kids ate it respectfully, and i enjoyed picking the mushrooms from the dish and eating those with toast. the mushrooms were good.
do not make the recipe on page 132 of issue 47 unless you want to experience the ho-hummingest thing served at your table in a long time. you should, instead, roast the mushrooms and make toast from bread baked with this recipe (using more whole wheat flour, of course) that ellie told me about. that would be a good dinner alone, providing you like mushrooms, buttered toast.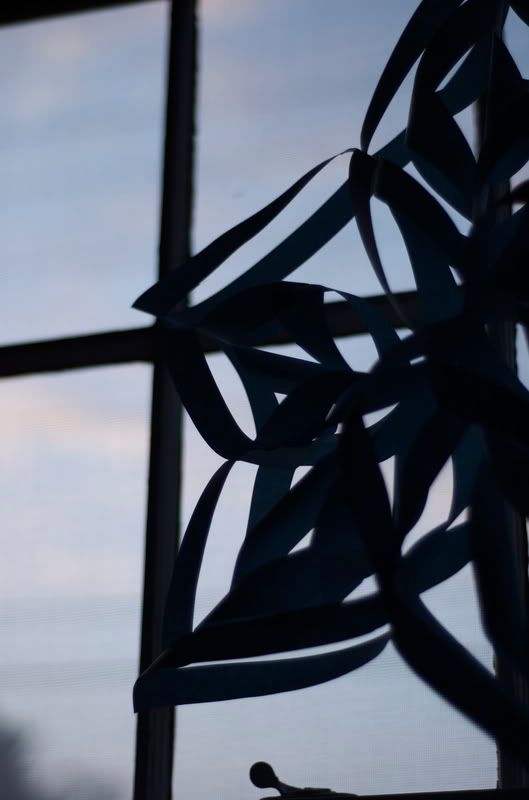 making, doing
three dimensional snowflakes (wow, molly! swissmiss! i'm obsessed!)
many lame and some not-so-lame advent activities
crowns (see photos in post prior; thank you, oh normally uninspired burger king)
surprises
brown eyed susans (in this case, eating also, and thanking freda smith)
resurrecting old habits by way of espresso in a pot
stacking trees, or a reasonable facsimile thereof
avoiding
shopping where wild-eyed people shove carts of crap to and fro
bob jones university and the plague within
cleaning out the refrigerator
having my photograph taken
ernie, of whom i am ever proud, has just started a new photo blog for posting a bit of his work. some of his genius will now be available for all to see and enjoy. check it out and link to it if it so pleases you!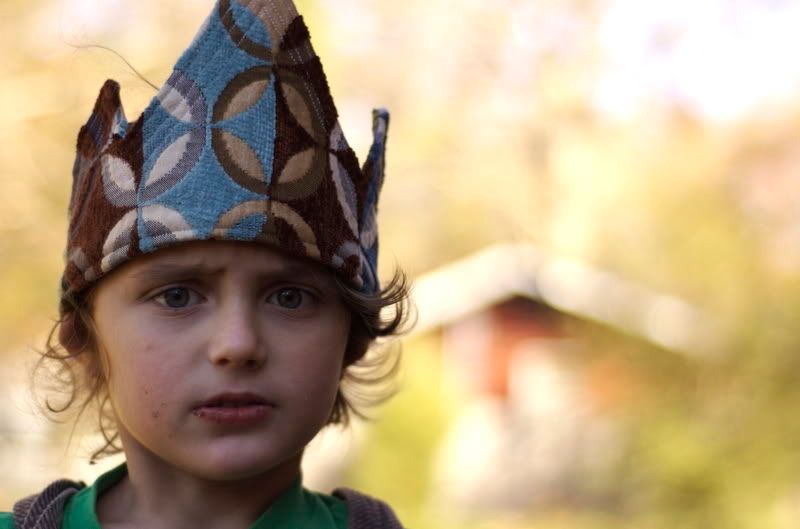 today i have discovered that it is possible to gently help all three children to sleep without falling into a drooling slumber myself if i pump espresso intravenously (nearly so) into my body around four o'clock in the afternoon. last week i awoke in the middle of the night with the tv jabbering on about something or other, my glasses askew on my face, my neck in a terrible bent position (i can still feel this, really, i can), and (i'm glad ernie wasn't photographing this) my teeth protruding out of my mouth in such a way as to cause me to bite my lower lip for who knows how many hours. being completely exhausted is not a pretty sight.